Our Facilities
Our communications centre, the radio room serves the City of Vancouver Emergency Operations Center. Seven workstations are permanently outfitted with a mixture of commercial and amateur radio equipment for voice and data operation on 2 m, 1.35 m and 70 cm amateur radio bands as well as HF voice and PACTOR data, and select commercial frequencies per the EOC's licensing. The [BCWARN](https://www.bcwarn.net/) microwave network provides Wide Area Networking capabilities across Metro Vancouver and extending to Vancouver Island as well as backup Internet connectivity.
A permanent HF station is supported by a 80M/60M dipole and a 5 band Force 12 beam antenna atop a 60 foot tower. If called upon to activate additional HF stations, preconfigured "stacks" complete with power supplies and tuners can be deployed in minutes.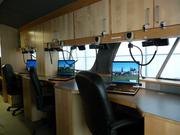 The Community Emergency Response Vehicle (CERV) is a mobile communications centre that largely duplicates the EOC communication centre's capabilities. Constructed out of a former Coast Mountain transit bus, the CERV came to life thanks to countless hours of love and attention to detail by a dedicated team of VECTOR members.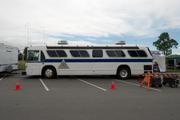 The CERV features five permanent workstations, a full range of VHF, UHf and HF voice and data equipment, server racks, independent battery power, APRS tracking, a conference area and of course a kitchen and head.